Carlos Lema
(954) 643-7481
Realtor Associate 954 756 3711` dianarealtor11@yahoo.com
Realtor Associate 954 588 2386 lbonnetrealestate@hotmail.com
Fort Lauderdale, Broward County
Fort Lauderdale is a city in Broward County, Florida. The city is located at 26°7'21"N and 80°8'14"W. According to the United States Census Bureau, the city population was 176,013 persons. As of the last census, the median income for a household in the city was $51,247. Please visit the city page at my website and you'll be able to see all real estate data and detailed Fort Lauderdale statistic.
know more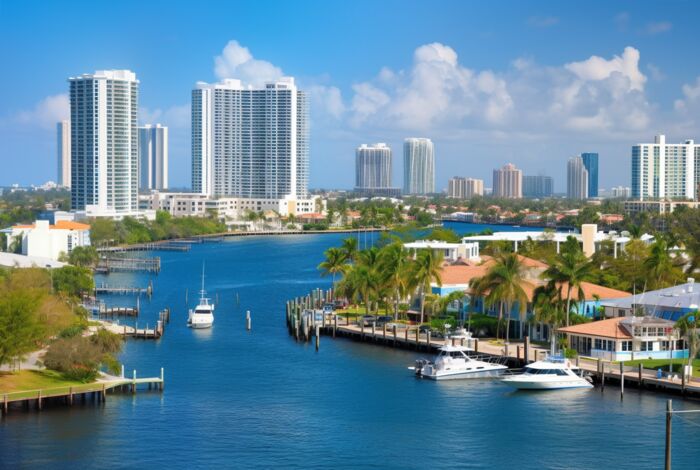 What's trending now in the market
WeWork in talks to sell off Managed by Q to free...

by

By Rich Bockmann

on 2019-12-11 at 6:00 PM

WeWork is in talks to the sell the biggest acquisition it made in its free-spending days. The co-working company is in discussions to sell the workplace management company Managed by Q to a group including one of the company's co-founders, Bloomberg reported. It's one of three companies WeWork put on the chopping block as it looks to cut costs. Co-founder and former chairman Dan Teran […]

Integra scores $68M refi for Artsquare at...

by

By Keith Larsen

on 2019-12-11 at 5:30 PM

One of Hallandale Beach's largest apartment complexes scored a $67.6 million loan. Integra Investments secured the refinancing for Artsquare at Hallandale Beach from Hunt Real Estate Capital. Artsquare is a 358-unit, Class-A project at 401 North Federal Highway that was completed in 2018. The project has six buildings and sits on a 2.7-acre parcel. In addition, the property features six […]

The $2.5B plan to lure millennials into new houses

by

By Katherine Kallergis

on 2019-12-11 at 4:30 PM

A development team has a $2.5 billion plan to lure millennials — and some Gen Xers — out of amenity-filled apartments and into thousands of new houses across the country. Miami-based Partners Global City Development and Brazil-based Leste investment management firm want to construct 10,000 new houses and townhomes in the build-to-rent space, The Real Deal has learned. The plan is on […]
Holiday Gifts Are Not the Only Hot Things Right...

by

Shannah Ferrante

on 2019-12-12 at 6:00 AM

Black Friday is behind us and holiday gifts are flying off the shelves in stores and online. Unlike last year, however, there's another type of buyer that is very active this winter – the homebuyer. Each month, ShowingTime releases their Showing Index, which tracks the average number of appointments received on active U.S. house listings. […]

Have You Outgrown Your Home?

by

Shannah Ferrante

on 2019-12-11 at 6:00 AM

It may seem hard to imagine that the home you're in today – whether it's your starter home or just one you've fallen in love with along the way – might not be your forever home. The good news is, it's okay to admit if your house no longer fits your needs. According to the […]

A 365 Day Difference in Homeownership

by

Shannah Ferrante

on 2019-12-10 at 6:00 AM

Over the past year, mortgage rates have fallen more than a full percentage point. This is a great driver for homeownership, as today's low rates provide consumers with some significant benefits. Here's a look at three of them: Refinance: If you already own a home, you may want to decide if you're going to refinance. […]
I know everything about Real Estate. Contact Me!
CL International R.E. Group LLC
6540 NE 18th Ave #204 Fort Lauderdale, FL 33334
I take the time to listen carefully to understand my client's needs, wants and concerns. I will be ready to take quick action when required and spend more time with those who aren't quite sure which direction to take. My genuine concern for my client's best interests and happiness ensures the job is done!